The Making of the 2018 Sisters Country Quilt
Welcome to our page dedicated to the Sisters Country Quilt. This signature quilt celebrates our community values and commemorates the 2018 visioning project—Sisters Country Horizons. It is a "community through arts" project of Citizens4Community in partnership with East of the Cascades Quilters and with support from: Sisters Outdoor Quilt Show, The Stichin' Post, Kathy Deggendorfer Designs, Ray's Food Place, Suttle Tea, the City of Sisters and Sisters Library. Further thanks go to the many people who offered their sentiments to bring this quilt to life! Our hope is that the quilt will inspire a sense of community connection each time it is viewed.
Read the quilt's story (BELOW); THEN ENJOY reading THE SENTIMENTS written on the quilt.
How THE SISTERS COUNTRY QUILT began
Last winter, as our community began preparing for the local visioning process, C4C began having conversations about ways to commemorate that effort and just generally celebrate our local spirit. Our goal was an engaging activity that would become a symbol of community connection and long-term teamwork. We also wanted the project to convey a sense of quality and legacy. Momentum grew for the idea of a community signature quilt—a piece that would genuinely reflect residents' thoughts (in their own words) while authentically reflecting of our local quilting heritage.
C4C was elated to gain early support and help from: Jeanette Pilak of the Sisters Outdoor Quilt Show; Jean Wells of The Stitchin' Post; Kathy Deggendorfer of Kathy Deggendorfer Designs; and the East of the Cascades Quilters, led by Diane Tolzman and Gilda Hunt. Without these ladies' initial support, the quilt as we know it could never have happened. THANK YOU!
By January we had developed the design for the signature quilt. Shortly thereafter, several local quilters came together in the workroom at The Stitchin' Post to create the individual quilt squares upon which people would write their messages. Special thanks to The Stitchin' Post for providing a fantastic work space. And also thanks to East of the Cacaders' Diane and Gilda and their fellow quilters CeCe Montgomery, Janet Roshak, June Jaeger, Sue Olsen, Janet Storton, Jill Miller and Nancy Frazeur for helping with the design and sewing quilt squares.
With all the squares sewn, we were ready for the next step...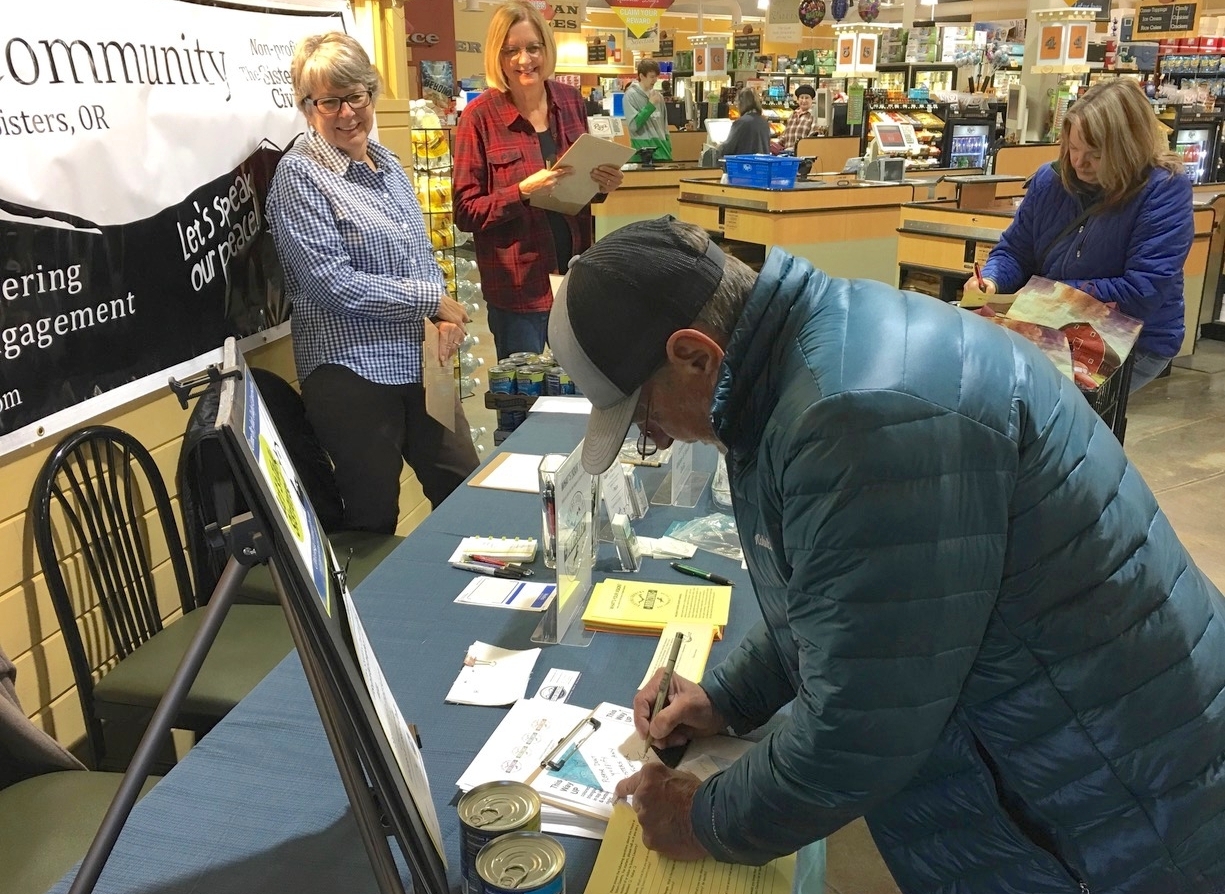 ...Collecting signatures!
Local stores graciously allowed C4C to set up booths in their spaces so we could collect signatures and raise awareness about the local visioning process. Local visioning efforts formally kicked off in March; and for two weeks in the middle of that month C4C offered Values & Visioning booths at Ray's Food Place, The Sisters Library and Suttle Tea. In addition to signing quilt squares, booth visitors were encouraged to offer their thoughts on the official visioning survey.
Thanks go to C4C members Amy Burgstahler, Jane Paxson, Bruce Rognlien and Robyn Holdman as well as City of Sisters and Deschutes County volunteers Patrick Davenport, Nick Lelack and Matthew Martin, and East of the Cascades quilters Diane Tolzman, Gilda Hunt, Nancy Frazeur, Susan Cobb, Jerry Lindstrom and Joan Santoro for volunteering at the booths. Special thanks also go to the Nugget Newspaper for helping to publicize the booths and quilt project.
Ultimately more than 180 people of all ages and walks (including a few visitors who frequent Sisters) would write their sentiments on quilt squares. They shared what they value most about Sisters and offered ideas for what might make the community better. Participants who shared their thoughts at the booths at Ray's each earned two free cans of Progresso soup. And many of those participants chose to donate their cans; so 112 cans were subsequently delivered to the Sisters Kiwanis Food Bank in the name of the Sisters Country Quilt Project.
Immediately after the signatures were collected, construction for the quilt began.
Assembly of the quilt took place during several weeks this spring.
First, core team members from C4C and East of the Cascades Quilters returned to The Stitchin' Post workroom to piece together the puzzle of 180 individual squares into a balanced layout. Squares were pinned to the workroom wall, organized to evenly distribute the colors and then labeled. Several of the quilt squares feature sketches (see samples below); and those also were distributed across the quilt. One-by-one, the squares were sewn into rows; and then those rows were brought together around the quilt's centerpiece art (Kathy Deggendorfer's design, entitled "Mountain Homes"), which had been transferred onto fabric.
The quilt was definitely taking shape!
With the squares and border completely assembled, Diane machine quilted the quilt; and then border elements and binding were added with help from Gilda.
The Quilt's Tour adventure begins!
The quilt was officially completed in June. And so, the next chapter in its life is beginning. That chapter started July 14 with the quilt making its official debut at the Sisters Outdoor Quilt Show. (See photos below).
After its SOQS unveiling, the quilt will make several guest appearances at upcoming community events (including an interactive Rhythm & Song event to be presented by C4C on July 19 in Village Green Park). And, cross your fingers, there may be a County Fair ribbon in the quilt's future, since it also is set to be exhibited at the Deschutes County Fair in early August.
Additionally, Sisters Library has expressed interest in having the quilt on display for a time after the quilt completes its Summer 2018 tour. (Thank you, Zoe!)
[UPDATE: THE QUILT DID, INDEED, WIN A BLUE RIBBON AT THE COUNTY FAIR. READ THE ARTICLE HERE.]

Our hope is that THE SISTERS COUNTRY QUILT will inspire a sense of community connection EVERY time it is viewed.
>> The quilt is meant to be a true community asset. So any other Sisters Country business, group or organization interested in displaying the quilt is invited to contact Amy Burgstahler of Citizens4Community at aburgstahler@bendbroadband.com.)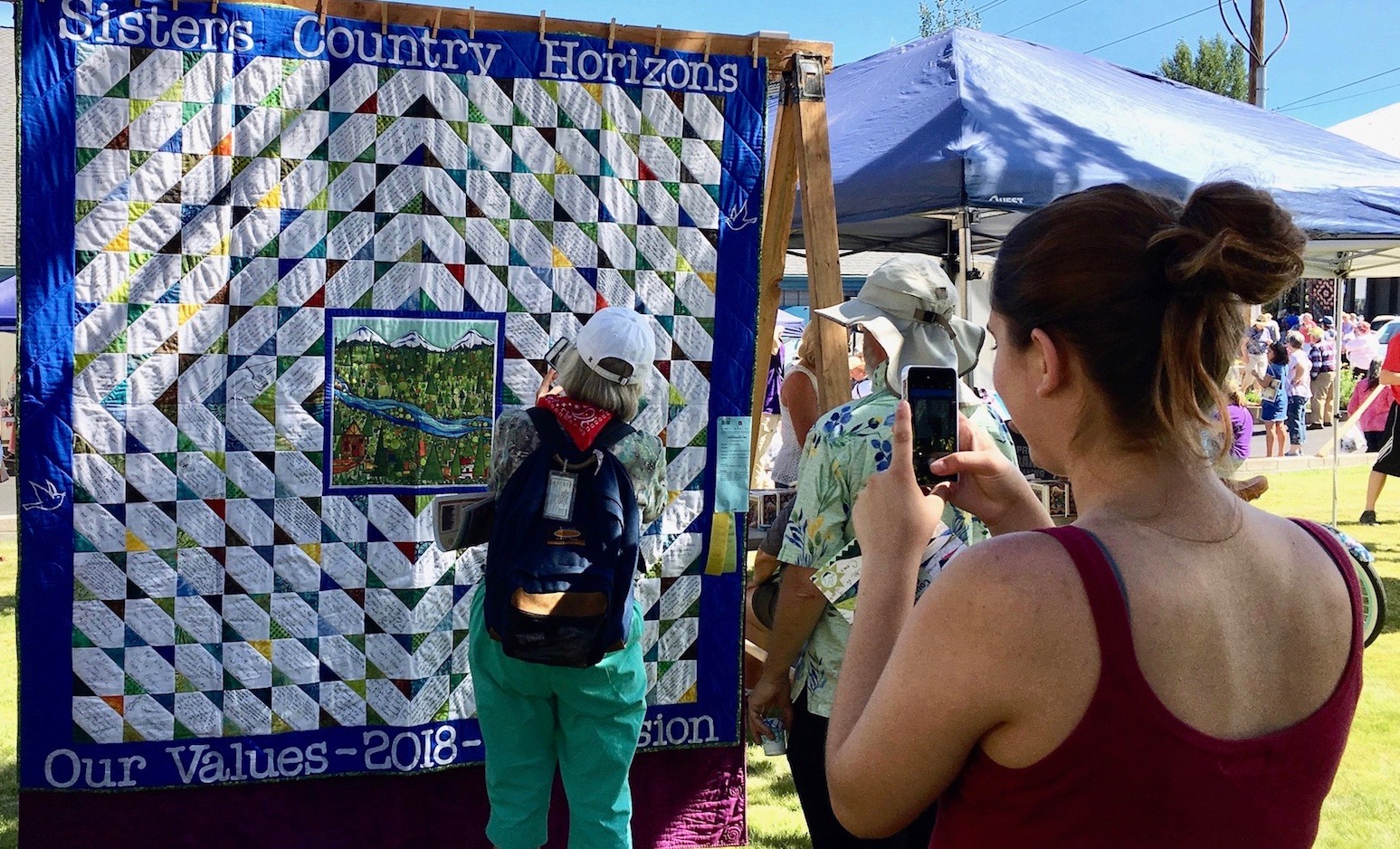 There's a little something from—and for—everyone on the quilt
Comments range from thoughts on marijuana, to butterfly stations, to a community sawmill, dog park, pool, bowling alley and much more. Some major themes also emerge. For instance, community members clearly care about finding ways to preserve our connections with each other and with the nature that surrounds us.
It's fascinating reading the quilt and seeing how people's comments create a tapestry of community ideas and values all on one piece. We hope you'll enjoy reading the quilt as much as we have.

Sentiments on the 2018 Sisters Country Community Quilt:
• (My vision for Sisters) a fun, adventurous and creative village for millennials to visit, live and work. —Shultz
• (We value) fun and affordable winter recreation for all Sisters locals and visitors.
• Sisters/Camp Sherman has been my home since 1976. The natural beauty and the people are key! I value the creativity and can-do attitude of this place. —T Phillips
• I love our outdoor opportunities & strong sense of community. For vitality, we must consider businesses...To maintain service, they need ample employee levels. Housing for retail/service has to be addressed. —Jeff
• We like our small-town community vibe & how safe Sisters is. We don't have much free time; but here—in just a couple minutes—I can get outdoors & away from it all. We'd like a dog park. —Wes & Teagan
• Let's be committed to enriching & developing the arts & culture in community together. —The Sisters Arts Association
• snowy mountains ~ crystal rivers towering pines ~ watchful deer ~ cerulean skies ~ friendly folks ~ all is well with my soul ~ i am home
~ sue stafford ~
Our mountains—perfect for peace of mind & fresh air. I would love to see more local 'Trail Angels' for the P.C.T and to have a good local list of "angels" willing to give rides and help to hikers. —Hike -N- Peaks
• Live, (Heart), Laugh
• I value Sisters commitment to growing food locally, having CSAs, supporting the Farmers Market and dedication to preserving their harvest safely. —OSU Master Food Preservers
• I value Sisters because of the small-town feel and friendly people. —Sydney
• I value the sense of community and am grateful to have raised my children here. "It takes a village." —Debbi Stevens
• Have CORE-AGE —Byrd
• We value the natural beauty and kind people. —Fred & Jane Boyd
• I value a small town with wonderful friends. Ed & Kathi Beacham
• I truly appreciate the artistic and educational stimulation that is offered in Sisters. My brain and body are very grateful!! Long live this incredible community—with all of our hands, it will continue to prosper!
• I would like to see Sisters embrace contemporary art. I appreciate all the artists in Sisters Arts. —K
• A safeguarded natural environment to inspire awe, gratitude and adventure, plus extraordinary built environments that inspire connection, creativity, jobs, kindness, teamwork and fun! Plus a Bowling Alley! —Quinn, Amy & Darin
• Sisters Folk Festival ~ A permanent home for community music ~ connected by Creativity (sketch of musical notes)
• I LOVE OUR BEAUTIFUL WATERS (fish sketch) —ML
• Sisters has a positive and healthy community spirit! A large and festive winter event would be welcome! —Raven Makes Gallery
• My wish for Sisters is a "Butterfly Garden" on every corner! Journey forth in creating sanctuaries! GOT MILKWEED? (butterfly sketch) —Susie Werts
• WALKABLE SISTERS ROCKS! —Andrea Blum
• I value the close knit artistic community and the serenity! —Laura Fouts
• Sisters feels more like home than anywhere I've ever lived. Thank you, Sisters! —Jennifer H.
• I love that visitors continually tell me how amazed they are at how friendly Sisters is...I want to do my part to keep it that way! —Wendy Rickards Bax
• I love the clean mountain air & being surrounded by nature. —Anna McMaster
• We value the great schools, the mountains and trails, the friendly people, the amazing entertainment, and wonderful restaurants. The firemen/EMT's are quick to respond in emergencies and are so professional, but we need an urgent care center and a senior center! —JNP
• I value the strength of community and the magical gifts of nature, large and small, that grace us each day. —Rita MacDonald
• I enjoy seeing the wonderful Three Sisters Mountains each day and our quaint little town with its very creative residents! —Louise Lewis Rennacher
• We love that Sisters is a close-knit community, where "everybody knows your name" when you walk into your favorite store or restaurant! —Brenda and Bill Phillips
• I am so grateful to live in a small town: where seniors feel safe to walk the streets alone, families feel safe at church, and young people are safe in our schools. —Susan Prince
• We love the proximity to natural wonders and friendly people.
• I like being close to nature, the rivers and trails are so accessible, the serenity, the clean air and water, great friends and neighbors, and how peaceful it is. And, we have a great hardware store! —Bryan Paxson
• I like the friendliness in Sisters. I would like to see this town not be swayed by the the divisiveness in the rest of the nation. We should work things out ourselves.
• Affordably housing, diverse population, and livable wage jobs to support the community! (tree, sunshine and mountains sketch) —The Remingtons
• I LOVE SISTERS SUPPORTS ME BEING ME Z (heart) —Blue Burro Imports, Amy A.
• A good deed, coupled with an open heart, delivers us to a place of love, acceptance, and forgiveness. We feel honored to be part of a community that lives the message every day. —Bill and Zoe
• Gondola—(sketch of gondola) SISTERS TO MOUNT BACHELOR —MB
• We love Sisters' support for the arts, sciences, and literature. —Paulina Springs Books
• We Want To See Sisters grow, but not lose that small-town feel. We love the smallness here. — Rainwater Cafe & Bakery
• We value the wonderful sense of community in Sisters and all of the friendships we've made. —Oathes-Cloverdale family: Jordan, Shauna, Devin, lil' Jordan & Brooklyn
• We Love the three Sisters and the village that is named for them. (mountain scene sketch) — Jean & David Purviance
• I Value...Sisters' textural beauty...The streams, ponderosa pines, mountains & lava outcroppings! —Teri Wood
• I VALUE ALL MY FRIENDS IN SISTERS, And How Lucky Are We to Live in Such a Beautiful Place —J. Wesley Jones 2018
• I would love to see Sisters celebrate Independence Day and Veteran's Day with parades!
• I love that Sisters values education and the arts (both visual & musical). I would love, love, love to see a community swimming pool!!! —Rosie H.
• Let's work TOGETHER as we improve our community! We can do this! —Patrick D.
• Thank you for a Great Community full of very interesting and Thoughtful Folks. —Bruce Rognlien
• All of Sisters Come Out to Play —Wendy Birnbaum
• I Would Like To See a Community That Values Everyone's Perspective for the Good of the Whole City.
• Let's keep Sisters a place where new-comers are welcomed, natural beauty abounds, outdoor activities are just a step away, creativity and new ideas flourish. —Diane Tolzman
• Peace Equity Acceptance & Compassion for all Sisters citizens —Jeanette
• MAY WE VALUE CREATIVE THOUGHT AND PROMOTE GENUINE CONNECTIONS AMONG OUR CITIZENS. —KATHY
• Quit trying to change good things. You moved here for what it is. If you didn't like it, go back to where you came from!
• Please don't change the things I helped build so you wanted to live here. —Joy
• Moved here with my daughter and son-in-law. Love the fact that everyone is so open to new people. —Pat
• Fun, Friendly and Full of Life —Cork Cellars Bistro & Wine
• Sisters is about the people, camaraderie, and views! I would love to see this community become a destination! I would love to see another brewery, more cafes, and more joy!
• We love all that the Sisters schools offer—very unique and high quality...choice programs, ECoS, and all of the caring teachers. I hope that more housing becomes available for our workers in town.
• Sisters is filled with talented and gifted people who continually strive to improve our community. The beauty and opportunity provided by our natural environment should be preserved and prioritized. Arts and entertainment make Sisters a fun place to live and work! — Steve & Cindy Greer
• We love the friendliness and sense of community that Sisters has. —Del & Diana
• We love the freedom to explore nature and lead a fun-filled life, along with friends who share similar values and vision for Central Oregon. —Bill & Gilda Hunt 3/2018
• We value the constant support and sense of community here in this beautiful town we call HOME. —Suttle Tea
• We Love Sisters' Close Community. (heart symbol) —Joel + Mikee Stutzman
• We dream of an Age-Friendly Community —C4C and the Senior Alliance
• Let's Keep Sisters "Sisters"!
• Ponderosas
Small, independent shops, cafes, businesses Quilt Show
Western Theme
Mountain Views
The Nugget
Galleries
Folk Festival
Library
Community Activities
Fine Folks
—M.S.
• Green Spaces and add Dog Parks —D.L. Hodgson
• We value Sisters for the natural environment, Amazing trails, Whychus Creek....and the Peace and quiet. —The Meihoffs + Zelda & Sigmund (Boston terriers)
• I value living in the Town of Sisters where I can safely walk around town, see what's new in the beautiful shops, and run into people I know everywhere I go. —Diane Goble
• May we be a community that listens to and hears each other with open hearts and minds.
• We value the natural beauty that surrounds us; majestic mountains, star-filled night sky, swift and clear Whychus Creek, ancient juniper, stately pine & the song of birds & breeze. —Patrick + Dixie Eckford
• We value the local trails that connect people to each other and their natural surroundings. — Catherine Hayden
• We love our Sisters' Library! It's so family friendly! —Frank & Cathy Downs
• I love my sister, tea, clean fresh air, beautiful, crystal clear lakes, and of course, the snowy mountains. —Marie
• Keep Sisters ...small town, friendly, kind, and trusting!
• The education my daughters received in the Sisters schools has inspired them to excel in their lives and careers! Thank you, Tracy Curtis
• I VALUE OUR NATURAL ENVIRONMENT —SUZANNE (ponderosa pine sketch)
• Value: Green Spaces
Future: Aquire land in the inner-town for a large park that connects with trails—for horse, pedestrian and separate trails for bikes—to smaller parks. This way, no matter how big we grow, we keep the GREEN!
• Gratitude for Sisters—I love the mountains and the people, the arts community and the good food. (sketch of Three Sisters horizon) —Winnie Givot
• I like how the Sisters community values our beautiful natural surroundings, the forest, animals, river, creek, mountains and our beautiful sky. I like the serenity of quite, dark skies at night. I love the changing seasons. I like the pride in community here. —Hayley D.
• We appreciate Citizens4Community as they encourage civility, collaboration and civic engagement in Sisters Country. Our wish is for greater collaboration to accomplish amazing things in our community. —Robyn + John
• Love our Small, Connected, Talented, Giving Friendly Community — Gregorio
• (Treble clef sketch) Beauty of nature Love of community Service to others ~Jodi Winnwalker~
• We value the pines, the views, the beauty and recreation. But mostly we value the schools' commitment to all children's success and development. Throw in a great church and amazing feeling of community and we can't help but say, "We can't believe we get to live here!" —the Stewart family
• DARK NIGHTS & STARS
• Park your car. Smell the clean mountain air. Listen to the wind in the pines. Watch the hawk soaring overhead. Feel the sun warm you bones. Taste the pure waters. Take a walk. Ride your bike (or your horse). You are home!
• We love the Sisters Schools where all children are welcome. We love the airport and the aviation program at the high school. —The Farrington Family
• We value a sense of community where we look out for each other and share common values while honoring each other's differences and supporting creativity and expression
• Provide an ACTIVITY Bus (sketch of hearts and roadway) ...Some kids need time after school with teachers (and so) All Kids Can Participate. Teachers, Coaches and Band Rock!!
• A Sawmill (sketch of a sawmill)
• I like Sisters 'cause of good schooling & good stores. (sketch of kids playing jump rope)
• We value the way the human, plant, and animal communities co-exist in Sisters ~ (sketch of a smiling trout in a stream) —Lauren & Stuart
• The beauty of the environment...the warmth and welcoming of the people...ranchers and farmers and musicians thriving together~ —The Murphy Family
• WHAT I LOVE ABOUT SISTERS--The people, thoughtful and quirky, quick to lend a hand—sometimes open, other times stubborn. The incredible pines, their soft mats of needles, bark black or orange, brown flecked with grey.
• A future more connected to each other, more connected to nature, more inclusive. —T (heart sketch)
• We love Sisters! It is a vibrant, welcoming community, full of understanding people! We love the wildlife that is all around us! And, you can't beat the gorgeous scenery! We are happy to be a part of this great place! —The Gruetzmacher Family
• Quaint
Unique
Impartial
Little
Town
Sisters
(sketch of a tree with a heart)
• We moved to Sisters 13 years agon. We have seen many great things happen in those years. We have a new Fire Hall, Library and City Hall. The redoing of Cascade and the Round-a-bout are great additions. We have also seen several new parks. We are proud of this City and happy to be spending our retirement years here. —Liz & Jack Weeks 2018
• I love the quiet, small town, surrounded by forest. Important values: 1.) Preserve our natural setting 2.) Protect the quiet—reroute trucks around town and NO skydiving (etc.) planes 3.) Include those in the greater Sisters area—we live here, too!
• We value the "small town" nature of Sisters.
• We value the sense of community and pride in our schools and events.
• We hope to keep Sisters "livable" with a high quality of life. We want increased traffic kept out of town—unless and until we improve roads and traffic congestion is improved.
• Small-town, neighborly community that values its schools, supports the arts, local bookstore & movie house ...with access to mountains and wilderness (sketch of mountains)
• We love the small town atmosphere of Sisters—the friendly people & the beautiful natural surroundings. We love living in Sisters! —Bob & Pat Norman
• I value a "Hallmark" community atmosphere where people are willing to volunteer, but (want) to expand/develop 12-month tourism. —RVB
• I value that Sisters is a unique and creative community that strives to share its character with residents and visitors.
• We value the folks in Sisters: the visionaries, friends, neighbors, artists, musicians, scientists and educators of Sisters Country. —Kerry & Barb Bott
• Value the natural world —Margaret Z
• We value the opportunity to share our passion for quilting with each other and the community. —East of the Cascades Quilters
• Sisters needs to continue to take care of its community members. Look out for one another, take time to listen and continue to be the loving place it has always been. This town is the "Little Engine" that could. —Bill Rexford
• I treasure the beauty, the residents, the small town feeling, the schools. I knew I had come home when I moved here in 1974. —Jean Wells Keenan
• I love being born and raised in Sisters. The community feels like one big family where everyone looks out for everyone. —Hailey Asson
• Central OR is a wonderful, scenic place. Friendly people and caring community. Small and very charming. Summer tourism brings good revenue to the community. —Del Kaufman
• I love Sisters for its beauty, art, friendly people. The people there really care about their community! —Jim Mooers
• We live here for the four seasons and small community. It's quiet and caring. —The Kostals
• Keep Sisters small so we can continue to care for our own. —Heather
• 3rd generation Central Oregonian! Sisters is the crown jewel—and a very dog/family/mixed gender place filled with Love! Blessings & Peace!
• We value small town Sisters with emphasis on individual passions like love of the outdoors and an active lifestyle. In Sisters the most senior of citizens can be an athlete! —Marna and Jeff Griffin
• I moved to Sisters in 1990 for retirement horseback riding & stayed for the great local people. —Lucy Grittman
• Been here for one year. And it's a beautiful place to live and the schools are great. —Robyn Sitton 3-10-18
• We love the small town feel of Sisters! The pace is slower, people know & help each other. It is also one of the most beautiful places on the planet! —The Hardin Family
• I love the mountains and how the community always comes together to support one another. —Kyle Dol
• We like the trails that are so close to town —Ila We love the book store —Opal (sketch of a book)
• 20 years of sunshine good friends and beautiful surroundings — Judie Dewane
• Very Friendly Fun Place. Love to go to Sisters Rodeo and the parks with my grandkids.
• Love the warm, sunny winter weather. —Jon
• Living in Camp Sherman is like living in paradise —Anne Moore
• We moved to Sisters recently for the quality of life, outdoor activities & small town living! :-)
• There is nothing better than God & Sisters! —Evelyn
• We love the rustic charm and beauty that surrounds Sisters, Oregon. (hearts sketches) —John, Rachel & Atticus
• The sun, the hawks, the trout, the coyotes, the owls, the deer....and ME! —R. Sposeto
• Thankful to Live in this Beautiful Community!
• I Am Grateful For The Vibrant Arts Community in Sisters —P. Youngfeather
• We need Another Roundabout at the South End of Sisters by Barclay Drive, near the Elementary School. —T. Hedemark
• Be Nice, You're in Central Oregon! :-) Kari—native 49 yrs.
• No Marijuana Dispensaries! :-) —Jayne
• Sisters is the Best Quilt Town Ever! —The Maltby Family
• We love visiting because it's so clean and beautiful! So pretty! —The Thompson Family (Bend)
• Love the small town! So much to do—Folk Fest, Quilt Show, Rodeo. Friendly & Wonderful! — Marla & Kirk Hoover
• Build a Senior Center building. Adding a kitchen and dining to the SPRD building may due. Daily meals for Seniors would be nice. A full-time Senior Center director is needed. —Berni Huggett
• The quiet sense of pride! We not only have a sense of place. We have a pride of place. Please —let us not lose this gift! —Jack McGowan
• FAITH, HOPE AND CHARITY. MAY ALL 3/SISTERS FOLKS BE KIND. —Karee E.
• I like the climate and the friendly people! I have lived here for 65 yrs. —Naomi Rowe
• Sisters is my family away from home.
• Sisters is a very special place. The beauty of our mountains, the beauty of all the people, brings joy, happiness and smiles. —Chris~
• Absolutely love the strong community bond that we hold together & that everyone knows somebody. It would be nice to have a gated dog park where the furry kids could run freely (heart) —Gabby & Joseph
• PLEASE DON'T YUPPIFY SISTERS ANY FURTHER
• Sisters is the Best little town I've ever lived in. It's a privilege to live in such a wonderful community. —Andrew Stahr
• Sisters Rocks! (and rivers and lakes and mountains and people and animals) —Kathleen Meheen
• Dedicated to the Red, White & Blue. —Betty Affatati
• "Sisters....A community that sticks together, supporting each other within." —June Jaeger 2018
• I LOVE LIVING IN A COMMUNITY THAT CARES SO MUCH ABOUT OUR COMMUNITY. — Lydia
• I (heart) Sisters! The people, the friendliness and the beauty of the mountains! Love, Portland
• Love Sisters. Good friends. Wonderful place to Live!! —Kay
• Ponderosa Pines. Kind People. Sisters Coffee —Murphy
• I LIKE THE SNOW. —Zander P. I like that Sisters is old fashion (heart sketch) —Sienna
• I like to ride the horses at the hotel. —August P.
• We love Sisters for the Music, Quilts, Schools & Rodeo (heart) Party On, Sisters! —Katie
• What I love about Sisters is that my sisters lives here. (heart) Heidi Whipps & Sadie Sharp
• SISTERS IS ONE OF THE FRIENDLIEST PLACES I'VE EVER VISITED! I also has everything one needs for adventuring
• For: Jeff Biado, who loved Sisters & the merchants who treated him with love & affection
• I LOVE THE PEOPLE! —RCS
• We love Sisters more than words explain! The school system and community are amazing! — The Mansfield Family (heart)
• I would like Sisters to stay small! It is a beautiful place to live. —Annette
• I dream of a small town whose inhabitants cherish and protect the varied and wild ecosystems that surround us. May our love of the land guide our choices. May our leaders promote responsible stewardship. —Susi Defazio
• Friendly~Family~Fun~Full of Love! —The Stuckers
• Thank you for the beauty & all the work. You guys are rad. —JX Pressler
• (The) Peace & Quiet in Sisters is worth a million bucks. —Scott A. Lusby
• "I love my dance class!" —Scarlett C. "I love my school" —Charlie C. "I love my school and friends" —Audrey C
• What a joy to live in this small town where people know each other and are involved in one another's lives. This is a wonderful place to raise a family in a community centered in a strong Christian faith with beautiful outdoor scenery and adventure abounding. May God continue to bless and prosper Sisters and all who come to visit! —The Smoke Family
• Sisters is a great place for Recreation, Relaxation and Residing. We love living in Pine Meadow Village! —Lyle & Jane Musel
• We (heart) Sisters. Come to S.A.L.I. Every Year. Stay at Black Butte or Bend Sisters RV. Love the town, shopping & community. —The Strands
• Hey Sisters! Let's have an art center like the Columbia Center for the Arts in Hood River! —Paul Alan Bennett
• 50 years ago my husband and I vowed to retire into the mountains. We came from small towns and the values in Sisters are the ones we grew up with. How lucky are we?!! —Pete & Susan Baxter, 2018
• Moved here for the great schools, tons of activities for families and the awesome weather — The Berrey Family
• SISTERS IS A COMMUNITY FULL OF POSITIVE PEOPLE! —Melanie
• We chose to live in Sisters after living in Portland. We moved to Sisters in 1991 and enjoyed skiing at Hoodoo and Mt. Bachelor. The community feeling and being involved in activities is wonderful! It's a great place to live—to age or mature whichever one chooses. —Lois Worcester
• Sisters is a Dream Come To Life. Never Stop Dreaming About A Better Future for Us All. —J